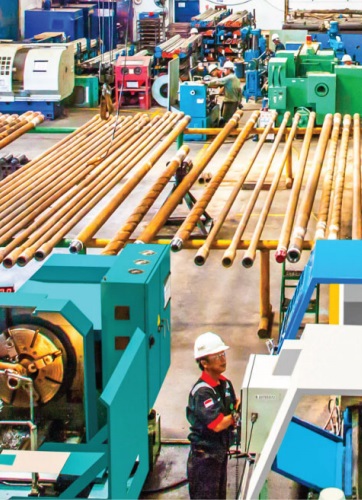 About PT Alloy Mas Oilfield Services
PT Alloy Mas Oilfield Services (PT AMOS) is a dedicated API workshop located in the North of Jakarta. Since our establishment in 2008, we have served clients from a range of well-established companies throughout Indonesia.
We are currently certified with licences and certifications from the American Petroleum Institute (API) namely API 5-CT, API 7-1 and most recently, API 6A. In Indonesia, we are one of the few who can manufacture API 6A equipments up to PSL 3. This will open up our range of products and service offerings to include those for wellhead integrity.
MANUFACTURED ITEMS
We specialise in manufacturing and repairing high pressure pipeline equipments used in oil and gas installations, such as studded block crosses, tees, elbows, and threaded connectors as specified in API 6A. Also for threading of rotary shouldered connections and fabrication of drill stem elements as specified in API 7-1 and API 5-CT.
We are most familiar with various API flanges, adapters and spools. All of our products that we supply are manufactured, inspected and certified in accordance to API, ANSI, ASTM and ASME International Standards.
We implement strict control on all of our functions and processes in accordance to API Spec Q1.
All of our products can be verified and certified upon request by Third Party Inspectorate Authorities prior to delivery, such as ABS, DNV and BUREAU VERITAS.
Our experienced and qualified engineering department is prepared to assist you with your specific requests, designs and specifications. In-house 2D and 3D AutoCad Design are part of our services.
Your peace of mind is our priority. Which is why we implement strict vendor selection process to ensure the quality of our raw materials are continuously maintained.
RE-MANUFACTURED ITEMS
AMOS' workshop facility is well-equipped to repair, refurbish and modify most handling tools, blowout preventers, valves, or choke manifolds. All testing, inspections, welding, and machining are performed in-house or by approved third-party vendors. Services provided come with a one year warranty.
Our workshop facility has gone through a stringent inspection process and demonstrated excellence in delivery capabilities, quality assurance, equipment inventorya and overall integrity prior to earning certification.
All repairs and modifications are performed according to API specifications. Document packages are also provided on request and include inspection reports, non destructive examination and test charts.
OUR HARDFACING SERVICES
AMOS specialises in providing various types of hardfacing services for different drilling conditions.
Our vastly experienced engineers and personnel are ready to assist you on the most suitable hardfacing type for your drilling conditons.
Download our company profile: (PDF download link)
Download our company brochure: (PDF download link)